So you have finished reading and watching (or rereading and reviewing) the Harry potter series, and now you feel this great empty painful hole in your heart. We've all been there. While I can't run To forget and allow you to relive the magic for the first time, I can offer you some suggestions of things you can do to continue exploring the Wizarding World and all it has to offer.
The Harry potter Filming locations
Fancy some adventure? Take a vacation and visit all Harry potter filming locations. Did you know that Hogwarts Castle is a real place? Stop in England to visit Durham Cathedral, Alnwick Castle, New College, Lacock Abbey, Gloucester Cathedral, and Oxford University. These different locations were used to film the exterior of Hogwarts, various rooms and classrooms. Many different locations were used for shots around Hogwarts grounds – head to Virginia Water before heading to Scotland to see Glencoe and Loch Eilt. Also in Scotland, take a train across the Glenfinnan Viaduct and take the Jacobite Steam Train for the Hogwarts Express experience.
Head to London to visit Grimmauld Place in Claremont Square, or stroll through Gringotts at Australia House. Make sure to stop at King's Cross Station and visit Platform 9 ¾. In England, you can drop by Ashridge Wood and the Seven Sisters Country Park to see where the Quidditch World Cup was filmed. You can also visit Hardwick Hall to see the Malfoy Manor.
Parks, shops and hotels
Experience the magic of the Wizarding World as you explore theme parks, purchase merchandise, and stay in Harry potter-themed hotels. The Wizarding World of Harry Potter Theme Park is a place where everyone Harry potter fans should visit at some point. The parks are located in Orlando, Florida, Los Angeles, California, and Osaka, Japan. Stop by England and meet at Warner Bros. Studio Tour to learn more about "The Making of Harry Potter". How about a tour that comes to you? The Harry potter Exposure is a popup store coming in 2022 that will travel around the world to show you the magic behind the movies.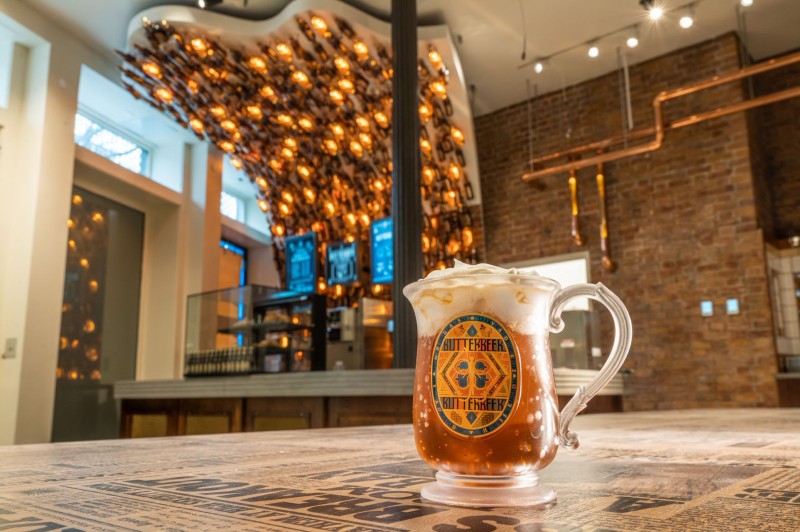 Another place in the wizarding world to visit is the new Harry potter store located in New York. Here in the store, you can buy anything from butter beer to official Hogwarts uniforms made by Lochhaven International. Additionally, the Noble Collection is a great source for fans to purchase replica accessories, jewelry, games, and more. Are you looking for a place to stay during your travels? How about a Harry potter-themed hotel? There's the Georgian House Hotel in London, the Gryffindor Dorm Room Cottage and Ground Keeper's Cottage in Liverton, Godric's Hollow in Lavenham, and many more.
Film soundtracks
Don't have time to watch all the movies? No problem. Spend your day listening to the Harry potter film soundtracks. There are many playlists that can be found all over the internet, YouTube in particular, but my favorite and personal recommendation is the Harry potter Soundtracks (years 1-7) playlist on Spotify, curated by Alan Morris. It arranges all the amazing songs per movie, which is fun for me because I like to imagine every scene from a movie that the song is associated with.
YouTube is your friend
Reserve an entire day (or a week) to dive into the many, many Harry potter videos that YouTube has to offer. Need more Harry potter content in your life? Look for the Harry potter bloopers and videos of deleted scenes. Want to know how the magic was made? To verify Harry potter In the wings. The actor interviews and the games are always a pleasure to watch. There is a lot of Harry potter parodies there too. Watch the Harry Potter puppets, the animated Harry Potter: how it should have ended, The Hillywood Show, or my favorite… Star Kid's A very pottery musical (be sure to check all three parts).
Fan content
Creativity never stops with us Harry potter Fans. Explore new and exciting content on social media. There are tons of fan accounts that post creative picture edits, creative video edits, wizarding world facts, fan opinions, DIY props and more. I like to spend my time reading online Harry potter memes or take care of my own fan account, @potterpoints on Instagram.
Interested in discovering magic in real life? You can also participate in many interactive events. Gray School of Wizarding is a real school inspired by Harry potter. They offer over 500 "magic" classes, including alchemy, defense against the Dark Arts, fortune telling and more. For The Love Of Fantasy is a comic book in Scotland that hosts a variety of events for different fandoms, including Harry potter. The three-day event offers plenty of activities to participate in: Quidditch matches, cosplay competitions, black magic lessons, and dueling lessons, to name a few. They also organize dedications and meetings of Harry potter actors and have stores full of merchandise. Take the time to research interactive events near you.
Hope this list serves you well. Who Harry potter-related activities are your favorite? Are there others that should be added to the list? Let me know in the comments.
Want more posts like this? MuggleNet is 99% run by volunteers, and we need your help. With your monthly $ 1 pledge, you can interact with the creators, suggest ideas for future items, and participate in exclusive promotional giveaways!
Support us on Patreon